The venue, 305. S. Congress Ave, Austin, Texas 78704, formerly known as the Austin American-Statesman property, is centrally located in downtown Austin on the banks of the Colorado River (Lady Bird Lake). The facility and warehouse is now available to host concerts, festivals, private events and film productions both inside our warehouses and outside in our parking lot and green spaces.
Pricing
Weekday Rates: Starting at $10,000
Weekend Rates (Thursday-Sunday): Starting at $15,000 per day
Specialty Rates: May apply for peak periods (SXSW, F1, etc.)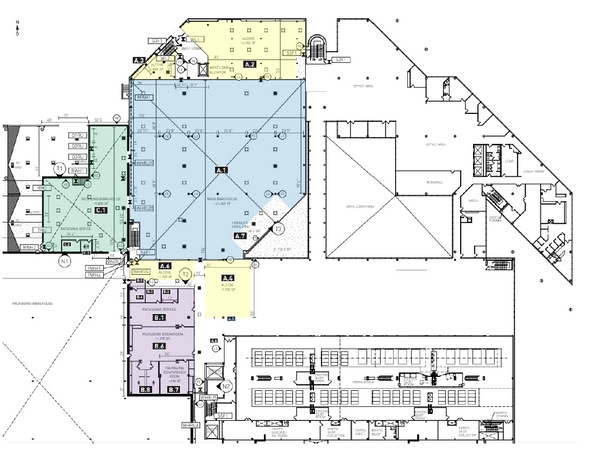 What's Included?
Main Warehouse - A.1-A.8: (1) Main Warehouse Space, (4) Alcoves, (1) Forklift Area, (1) Small Breakroom
Packaging Breakroom - B: Breakroom / Green Room, Conference Room
Receiving Warehouse - C: (1) Receiving Warehouse, (1) Small Office, North Receiving Lot
Parking Availability: Access to West Parking Lot (for an additional fee)
LICENSEE RESPONSIBILITIES
+ Special Event Permitting
Please know that we're unable to accurately list a verifiable occupancy for our warehouse and outdoor event spaces because our facility isn't zoned as a special event venue. Past concerts have received an occupancy load limit of 1,499 inside, but the layout dictates the load limit. The outside space has received an occupancy load in the 5K-10K range, but this is also variable based on the layout of the space.
Clients are responsible for pursuing a temporary change of occupancy with the City of Austin. The Fire Marshal's Office will assess the occupancy capacity of the event space based on the promoters' proposed activities. Additional permits, including Outdoor Sound Permit, may be required, depending on the nature of your event(s).
The Austin Center for Events (ACE) offers an application process to guide event promoters here - http://www.austintexas.gov/department/special-event-permits
Once the application is submitted, ACE provides ongoing information from City and State departments on rules, regulations and applicable permits required for special events at our property.
The execution of License Access Agreements with the 305 S. Congress Ave will not be finalized until a copy of the completed ACE application has been received.
+ Amplified Sound
The warehouse is not zoned as a special event venue and thus any amplified sound use on the property outside requires a Temporary Sound Permit. Temporary Event Sound Permits (24-Hour or Multi-Day) are issued to event operators for up to four days of amplified sound.
Sound equipment may be operated up to 85 decibels:
10:00 a.m. - 10:30 p.m. Sunday through Wednesday
10:00 a.m. - 11:00 p.m. on Thursday
10:00 a.m. - 12:00 a.m. midnight Friday and Saturday
+ Ingress/Egress Plan
Because the warehouse was not originally built to host public assembly activities, certain ingress and egress features don't exist, which would otherwise allow for a higher load capacity. Some promoters have installed temporary stairway systems at the loading docks to improve the ingress and egress, thus improving load capacity. We've recently made certain upgrades based on recommendations from the Fire Marshal's Office to increase capacity and safety, but the space still has limitations.
The Main Warehouse has four (4) doors and four (4) roll-up doors.
Door width dimensions: S2F1 35-inches, WL2 72-inches (ADA pathway), MWH1 35-inches & PWH4 35- inches.
Roll-up door width dimensions: WHRU1 10-feet, WHRU2 10-feet, WHRU4 10-feet and WHRU5 6-feet.
The Receiving Warehouse has three (3) doors, three (3) roll-up doors and five (5) dock roll-up doors.
Door width dimensions: RWH1 35-inches, RWH2 71-inches (ADA pathway) and PWH5 35-inches.
Roll-up door width dimensions: WHRU1 10-feet, WHRU2 10-feet, WHRU3 10-feet, and WHRU4 10- feet.
Dock roll-up door width dimensions: D1RU 8-feet, D2RU 8-feet, D3RU 10-feet, RRU 8-feet and TRU 8- feet.
+ Parking
The west parking lot is available with the rental for an additional fee.
For information on securing additional onsite parking, please contact us.
+ Insurance
Licensee will obtain and keep in full force during the Term insurance policies listed in lease agreement.
+ Shoreline Power
Connection to the electrical service must be scheduled and approved with the property's electrician (30) days prior to service start date. Distribution from the transformer or disconnect location to the event space is at client's sole cost and expense.
The warehouses include shoreline connections at three locations. Each location is equipped with one (1) 120/208 Volts/3 Phase 200 AMP service transformer (includes electric consumption) and one (1) 480 volt 100 AMP disconnect. Transformers are 5-wire camlock out to client.
+ HVAC
The space is not temperature controlled and the client must provide all cooling and heating needs.
Supplemental cooling devices like swamp coolers are recommended and have been used at prior events.
+ WiFi and Networking
The facility is not equipped with a public accessible Wi-Fi network to provide service in the warehouse or across the exterior property. For Wi-Fi and networking services please see wifi company info on our Vendor Referral document.
+ Sound Shunt
Connection to sound trip breaker must be scheduled and approved with the property's electrician 30 days prior to service start date.
The warehouse is equipped with one (1) sound trip breaker to eliminate the power to all sound producing devices and any special lights associated with the sound should any initiating device activate the building's fire alarm system.
+ Potable Water
There is no drinking water connection inside the warehouse.
There are three (3) potable water hose bib connection locations on the exterior of the building. Fitting diameter 5/8 in. (0.625 in); water on/off key provided; water meter provided; water hose not provided.
Water service must be scheduled 15 days prior to service start date and will be metered and billed toward your event.
+ Wrought Iron Fence
The West Parking Lot and Receiving Lot are separated by a sectional wrought iron fence. The black fence is ~450-feet in length and runs along the perimeter of the Receiving Lot. Each* section of the fence is ~9-feet wide by 6-feet tall. The fence construction has been modified to allow for a single section or entire line can be removed. Alterations or removal of the fence must be scheduled and approved with property.
+ Security Badges
The Licensor will issue temporary credentials to access the building when the warehouse space is reserved. All entries into the building are controlled by electronic badge readers. (1) credential is generally issued to Licensee.
Credentials must be returned to property within five (5) days of the conclusion of licensed access or the Client will be charged replacement cost.
+ Special Notes
Ceiling Heights:
The ceiling height in the Main Warehouse (A.1) is between 40-feet and 43-feet, (A.2 & 3) ~9-feet,(A.4) ~8-feet, (A.6) ~13-feet and Receiving Warehouse (C.1) ~17-feet.
Restrooms:
There are no working restrooms on-site. The client must rent portable restrooms for all working staff and guests to use throughout the entire duration of the rental. This includes load in/out and during the event.
+ Additional Services
Additional services listed below must also be handled by one of our preferred vendors, see a separate list, and confirmed at least (30) days prior to show dates.
Shipping and Storage: The property does not have on-site receiving teams and all packages and equipment must be dropped off during event load in days only, as listed in lease agreement.
Security: Licensee is required to hire security and safety/security plan submitted (7) days before show date.
Dumpsters & Recycling: Licensee is responsible for providing their own dumpsters and recycling bins.
Housekeeping/Cleaning: Licensee is responsible for all cleaning & cleaning services through their lease agreement term.